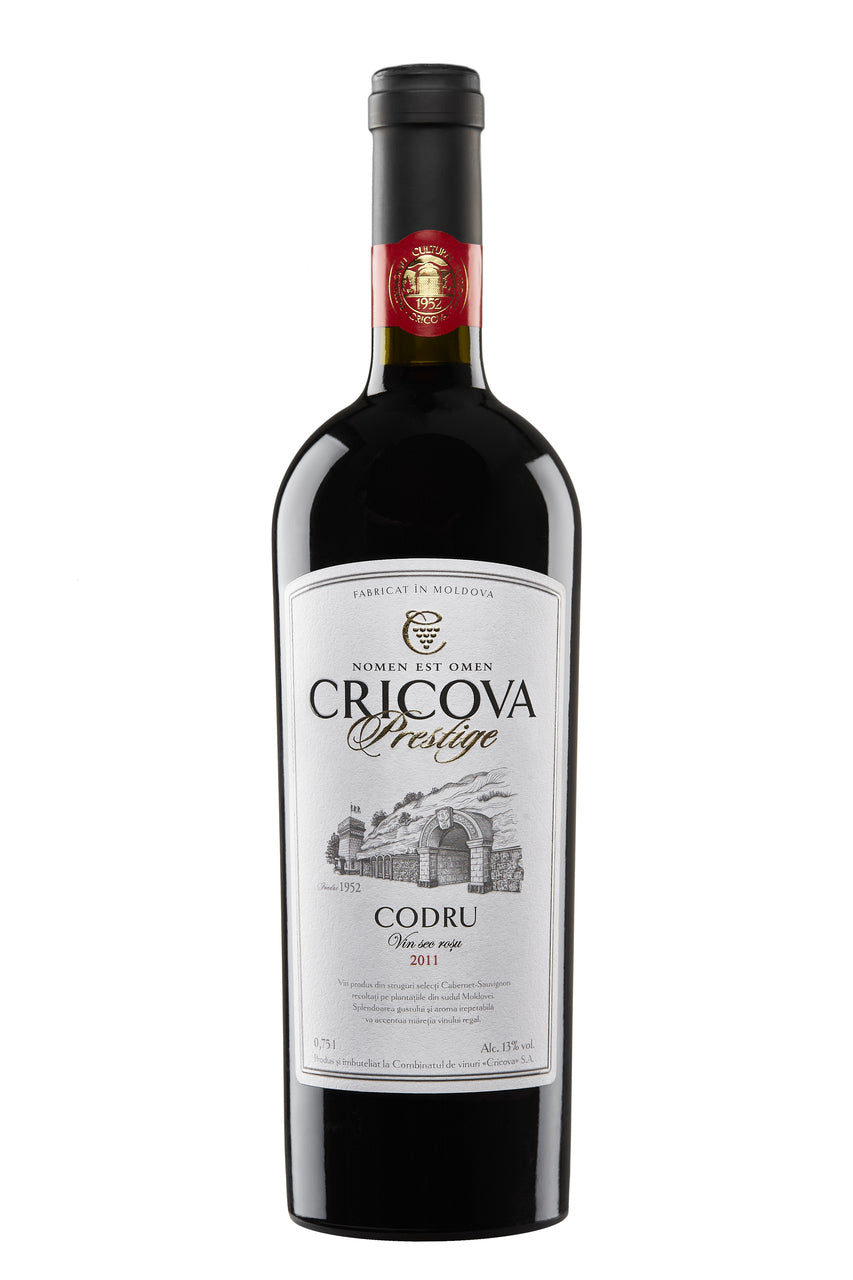 Cricova Prestige Codru 2017
Alcohol:
Vintage:
Appellation:
Grape:
---
---
Alcohol
13% : Vintage
2017 : Appellation
Moldova, Codru : Grape
Cabernet Sauvignon 75%, Merlot 25%
"Codru" red blend dry wine, part of the Prestige wine collection. This is a sophisticated wine, perfectly balanced, with the scent of violets and ripe cherries, dense and rich flavor, with notes of black currant and prunes. The wine was aged in oak barrels for at least 12 months. 
Cricova is a pearl of the Moldovan wine industry that represents a unique underground city well-known all over the world by its huge labyrinths stretching over 75 miles underneath the surface, and especially by its excellent wines. Famous underground wine cellars, which include tasting rooms and private wine collections of world known dignitaries such as John Kerry (former U.S. Secretary of State), Vladimir Putin of Russia, Angela Merkel of Germany, and others, make it a popular attraction for tourists from around the world.  
Create your own enchanting memories with our personalized, custom engraved gifts! Each stroke carries your heartfelt message, turning ordinary items into extraordinary keepsakes. Elevate your celebrations and surprise your loved ones with a one-of-a-kind gift that speaks directly to their hearts. Embrace the power of personalization and make every moment unforgettable. Start crafting your unique story today!
"Welcome to the world of hassle-free shipping and delightful doorstep deliveries! Our expert team takes pride in meticulously packing your order, and we promise to whisk it off to you with lightning speed. Rest assured, your items will arrive safe and sound, just like they left our store. So sit back, relax, and let us sprinkle some magic on your delivery experience. Join our satisfied customers and get ready for a delightful journey to your door!"
Choose options